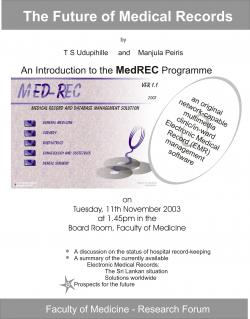 MedREC Electronic Medical Records Software
MedREC was created in 2003 as a means of recording patient data and images in a clinic setting. It was written in Visual Basic 6.0 by Dr Manjula Peiris and Tavisha Udupihilla, two pre-intern doctors who had an interest in the use of IT in clinical practice.
From the User Manual 2003-4:
"The MedREC program is designed to make the management of medical records as convenient and efficient as possible. As wells as providing a user-friendly environment for data entry and retrieval, it also gives the user the opportunity of maintaining digital images, sketches and sound recordings. In addition, the program provides a number of pre-formatted printing options. Many features have been incorporated in order to assist the process of diagnosis and management."
MedREC Breast Clinic has been in use in the Oncosurgery Unit of the General Hospital Kandy for 7 years form 2003 to 2010. It houses a database of over 6000 patients including around 600 breast cancers.
MedREC Neurosurgery was installed in the Neurosurgery Unit Kandy, and was the first time it was used ,in a network effectively.
MedREC Clinic: The Medical Clinic, Professorial Unit, Peradeniya also has a version that was used for data entry and retrieval by several leading Consultants.
MedREC Ophthalmology was designed for use in an Eye Surgery Unit. It was created incorporating the experience and expertise of Dr Priyanga Iddawela FRCOphth, a leading clinician in his field.